As the morning sun peeked through the trees, Rodger Kram readied himself for the coming marathon. But not the kind he used to run.
Kram, a physiologist at the University of Colorado Boulder, stood next to undergrad James Wilson at the end of a rural dirt road. Each donned a strap of nylon webbing onto his head. Attached to the bottom of their straps — called tumplines — a log rested horizontally across the duo's lower backs.
Science News headlines, in your inbox
Headlines and summaries of the latest Science News articles, delivered to your email inbox every Thursday.
Thank you for signing up!
There was a problem signing you up.
The pair was about to embark on a 25-kilometer trek to replicate how the ancient people of Chaco Canyon may have transported timber around 1,000 years ago (SN: 5/17/17). By the end of the day, their successful journey suggested that it would have taken just a few days for two people with tumplines to carry a timber to Chaco, Kram, Wilson and colleagues reported on February 22 in the Journal of Archaeological Science: Reports.
Located in the northwest corner of New Mexico, Chaco Canyon is home to grand structures built between A.D. 850 and 1200. Multistoried stone buildings called great houses had roofs with timber beams about 5 meters long and 22 centimeters in diameter. The site contained at least 200,000 timbers of this size.
But the wood came from forests more than 75 kilometers away (SN: 9/26/01). Load-pulling animals and wheels weren't there at the time, and the timbers don't appear to have been dragged. Scientists are puzzled by how the ancient people, ancestors of modern-day Diné and Pueblo peoples, moved the large timbers.
A 1986 study suggested that each log used as a beam had a mass of 275 kilograms. But Kram suspected this number couldn't be correct. 
In 2016, he cut a section of a tree outside of his house — ponderosa pine, the same species used in Chaco — and weighed it on his bathroom scale. He then extrapolated that a 5-meter-long timber would be closer to 90 kilograms. This revelation led to a 2022 study recalculating the masses of the Chaco Canyon timbers as between 85 and 140 kilograms.
"As soon as we figured out that the weight was reasonable, I wanted to carry them," Kram says.
He and Wilson proposed that tumplines could have been used to transport the timbers. These head straps have been found on every inhabited continent and are thought to have been used since at least around 2,000 years ago. They are still widely used to carry heavy loads, such as by professional porters in Nepal. A tumpline is placed on the crown of the head — to be in line with the cervical spine — with the attached cargo resting on the small of the back.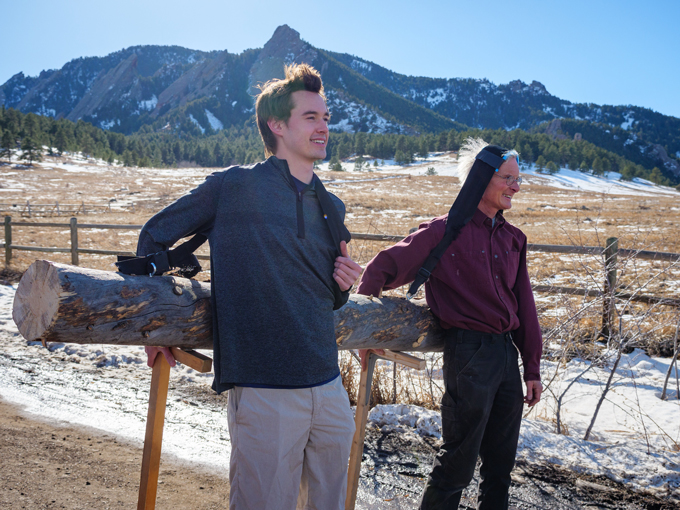 While there is no evidence that the people of Chaco used tumplines to haul timbers, there is proof that they used them to transport other items, like water vessels.
To see if tumpline timber transportation was humanly possible, Kram and Wilson trained for three months during the summer of 2020, gradually increasing their load weight and walk duration. Strangers who passed by couldn't hide their confusion.
On the final day, the pair walked 25 kilometers while carrying a ponderosa pine that had been air-dried, which is how the people of Chaco may have prepared timbers. The 60-kilogram log was 2.5 meters long and 24 centimeters in diameter. The entire trek took almost 10 hours, and the weight of the full timber only slightly slowed the duo's pace.
"I felt happy at the end that it was proved feasible, and that the 132-pound log we shared was off our necks," says Wilson, now a medical student at the University of Colorado School of Medicine in Aurora. But "I never really doubted that we could do it."