Russia reignited its moon exploration program today (Aug. 10), sending a lander toward Earth's nearest neighbor.
The Luna-25 mission lifted off today at 7:10 p.m. EDT (2310 GMT) atop a Soyuz-2.1b rocket from the Vostochny Cosmodrome in Russia's far eastern Amur Region. The launch picked up where the former Soviet Union left off in 1976, when Luna-24 successfully delivered about 6.2 ounces (170 grams) of moon samples to Earth.
But that was then. Luna-25 is the first domestically produced moon probe in modern Russian history. 
If all goes according to plan, Luna-25 will spend the next five days journeying to the moon, then circle the natural satellite for another five to seven days. The spacecraft will then set down in the moon's south polar region, near Boguslawsky Crater. (Two backup landing spots are also in play: southwest of Manzini Crater and south of Pentland A Crater.)
Once down safe and sound, Luna-25 will work on the lunar surface for at least one Earth year.
Related: Not just Artemis: China and Russia plan to put boots on the moon, too
A long road to the launch pad
It took longer than expected for Luna-25 to get off the ground; its liftoff was delayed for nearly two years. 
One major countdown-delaying issue was sparked by Russia's invasion of Ukraine, which began in February 2022. The European Space Agency (ESA) had been set to provide the Pilot-D navigation camera, built specifically to help Luna-25 make a precision landing on the moon. Due to the invasion, however, ESA canceled the camera cooperation, along with a number of other collaborative space projects.
But getting Luna-25 on its way to the moon remained a priority, one highlighted by Russian President Vladimir Putin. In an April 2022 visit to the Vostochny Cosmodrome, he said the sanctions placed on Russia by the U.S., the European Union and others would not deter the nation from carrying out space exploration.
"Despite all the difficulties and attempts to interfere from the outside, we're definitely going to implement all our plans with consistency and persistence," Putin said.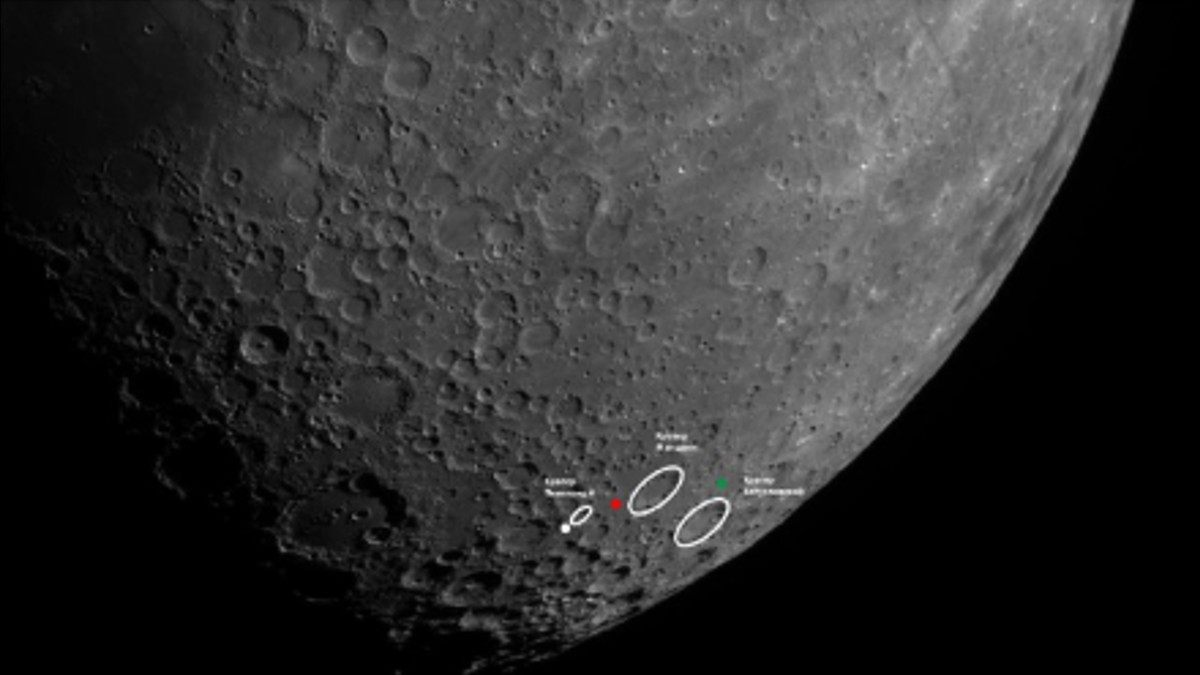 Tricky terrain
Luna-25's main objectives are to test technology for future soft landings on the moon, analyze lunar dirt and rocks and conduct other scientific research. If its landing is successful, the craft will study the upper layer of the lunar regolith, appraise the ultra-thin lunar atmosphere and search for signs of water ice in the south pole region.
In terms of landing, the 1.6-ton Luna-25 is fundamentally different from its predecessors. Past Soviet lunar landers touched down in the moon's equatorial zone. This new lander will set down within the circumpolar region of the moon, in a site that involves tricky terrain. 
Designed, built and tested by Russian aerospace company NPO Lavochkin, Luna-25 consists of two main parts. One is a landing platform outfitted with a propulsion system and landing gear, including a Doppler velocity and range meter. The other is an unpressurized instrument container loaded with scientific equipment, radiators, electronics, solar panels, a radioisotope heat and power source, antennas and television cameras.
Related: Missions to the moon: Past, present and future
'Sit where no one has sat'
Luna-25 carries the following instruments, which together weigh about 66 pounds (30 kilograms):
Service television system (STS-L)
Lunar manipulator complex (LMK) with a soil intake device
Neutron and gamma detector (ADRON-LR) to remotely look for water ice
Infrared spectrometer (LIS-TV-RPM)
Laser mass spectrometer (LAZMA-LR)
Ion energy-mass analyzer (ARIES-L)
Dust Monitor (PmL)
Scientific information control unit (BUNI)
Luna-25's "most important task, to put it simply, is to sit where no one has sat," Maxim Litvak, a chief scientist for the mission from Russia's Space Research Institute (known by the acronym IKI), said in a posting on the IKI website.
"Now everyone is aiming for the polar regions; this area is intriguing to everyone in the scientific community," Litvak said. "There are signs of ice in the soil of the Luna-25 landing area; this can be seen from data from orbit. In the equatorial regions where we landed earlier, this is not the case." 
Indeed, Luna-25 is slated to touch down around the same time, and in the same general area, as India's Chandrayaan 3 probe, which launched on July 14 and arrived in lunar orbit on Aug. 6. And NASA plans to establish one or more bases near the moon's south pole by the end of the 2020s, via its Artemis program.
Future Russian moon missions
Luna-25's lunar manipulator complex (LMK) is capable of excavating lunar regolith and delivering it directly to a laser mass spectrometer (LAZMA-LR). In addition, an infrared spectrometer installed on this hardware can inspect the material, assessing the prospect of finding water ice.
Litvak emphasized that the Russian lunar program is already planning out future missions based on the development of Luna-25's design. Luna-26, which will orbit the moon, will be followed by two landing efforts: Luna-27 will deliver a drilling rig to the moon, and Luna-28 is designed to deliver regolith from the moon's polar regions to Earth. 
These lunar craft are a prelude to Russian plans to start deploying a full-fledged scientific station on the moon, in collaboration with China.
"I hope that we will be the first to land in the circumpolar region and conduct the first direct experiments to study and search for water. This will be the basis from which everyone will then start," Russian researcher Lev Zelyony, scientific director of the first stage of the Russian lunar program, said in an IKI posting. "So the successful flight of Luna-25 will mean a lot, and is important not only for pure fundamental science."