Jeremy Hansen is a Canadian space astronaut scheduled to fly around the moon.
Hansen the mission specialist aboard Artemis 2, is expected to start his 10-day mission in November 2024. Flying with Hansen on the moon mission will be three NASA astronauts: commander Reid Wiseman, pilot Victor Glover, and mission specialist Christina Koch. 
Artemis 2 will be the first spaceflight for Hansen, who is a Canadian Space Agency (CSA) astronaut. But Hansen is highly experienced in other matters. His career experience includes piloting fighter jets for NORAD, mentoring an astronaut class and working in the top echelons of Canadian space policy.
Hansen will be the first non-American to leave low Earth orbit, as all other astronauts who ventured to the moon were Americans during the Apollo program, which brought 24 individuals to lunar realms between 1968 and 1972.
Related: Why will NASA's Artemis 2 only fly around the moon, not orbit or land?
Pre-astronaut career
Hansen was born on Jan. 27, 1976, and grew up in two towns near London, Ont., a city west of Toronto. His work in aerospace began at the tender age of 12 when he joined the 614 Royal Canadian Air Cadet Squadron of London. 
Hansen earned his Air Cadet glider wings at age 16 and then a year later, at age 17 in 1992, received his private pilot license and was accepted to the Royal Military College Saint-Jean in Quebec. By 1994, thanks to "the discipline and self-confidence" Air Cadets gave Hansen, the youngster was accepted for officer training in the Canadian Armed Forces, his Canadian Space Agency biography (opens in new tab) states.
After completing basic training in British Columbia, Hansen began a 4-year bachelor's degree in space science at the Royal Military College (initially in Saint-Jean-sur-Richelieu, Que., then graduating from the branch in Kingston, Ont. in 1999.) He completed CF-18 fighter pilot training in 2003.
Hansen then served as a fighter pilot for five years, between 2004 and 2009, with 441 Tactical Fighter Squadron and 409 Tactical Fighter Squadron; he also was Combat Operations Officer at 4 Wing Operations. His work included efforts with NORAD (North American Aerospace Defense Command) and in the Arctic.
Related: Meet Jeremy Hansen, the Canadian astronaut on board Artemis 2 moon mission
(opens in new tab)
Early astronaut career
Hansen was recruited to the CSA after the 2008-09 recruitment campaign that selected two astronauts among 5,350 applicants (opens in new tab), the agency stated. Selected alongside Hansen was David Saint-Jacques, who eventually received an International Space Station mission in 2018-19.
The duo graduated from basic astronaut training in 2011, alongside the 2009 NASA astronaut class. Hansen was assigned to capcom duties in Mission Control as well as ongoing mission support. 
Hansen also increased his remote environment experience for simulating spaceflight. For example, he was a crew member in the European Space Agency's Cooperative Adventure for Valuing and Exercising human behaviour and performance Skills (CAVES) program in a cave complex in Sardinia in 2013. He also served with NASA Extreme Environment Mission Operations (NEEMO) 19, which worked underwater in 2014.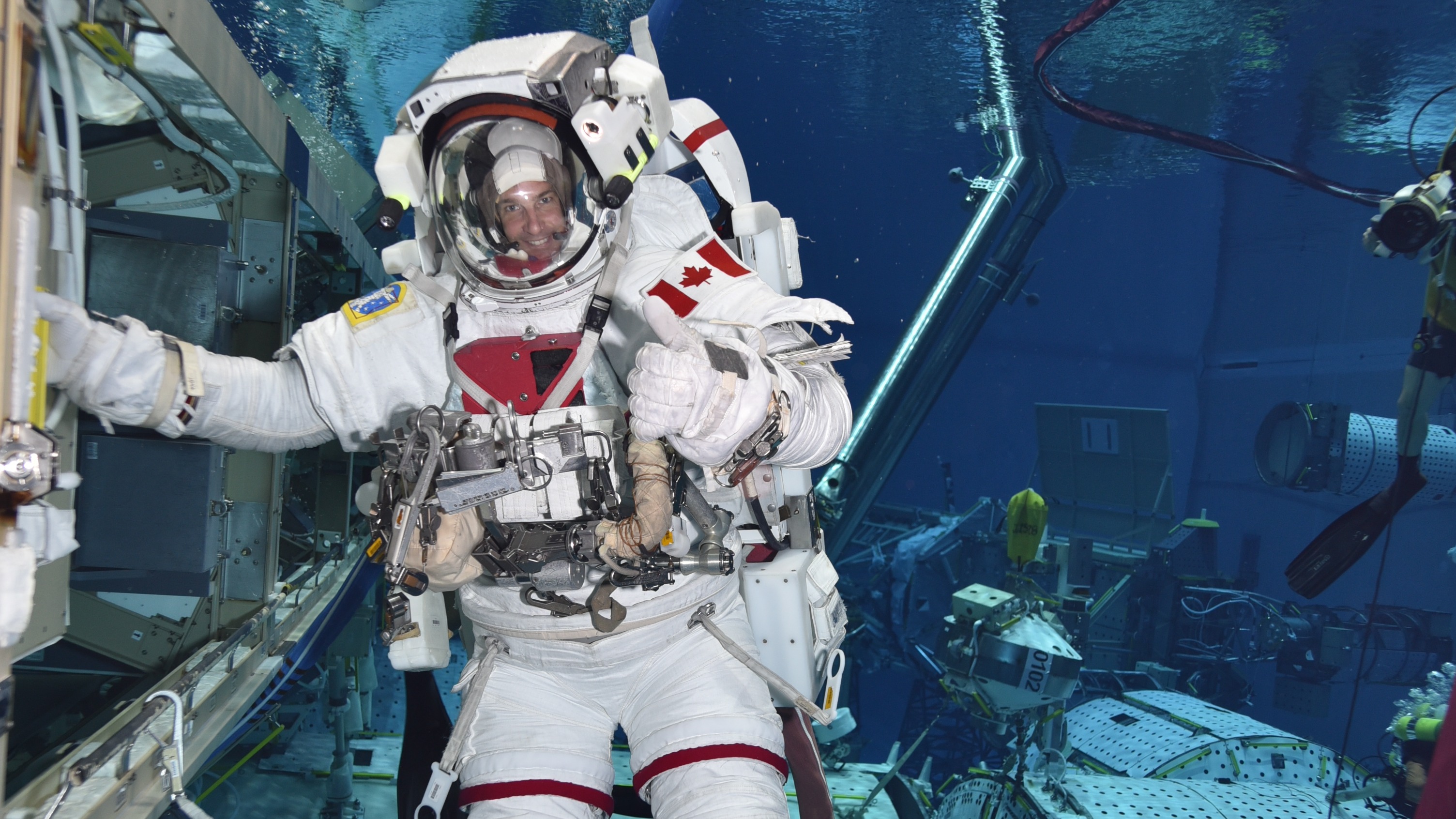 (opens in new tab)
Waiting 15 years for space
Canada's contribution to the ISS is modest, at 2.3% according to the CSA (opens in new tab). The Canadarm2 used for servicing the ISS and berthing spacecraft is Canada's contribution to the consortium and allowed for flights approximately every six years.
Hansen, therefore, did not fly for a while, as two-time astronaut Chris Hadfield was assigned to an ISS mission in 2012-13 and Saint-Jacques then received his 2018-19 flight. But Hansen picked up significant ground responsibilities in the meantime.
Hansen was assigned as the schedule manager for the 2017 astronaut class, acting as a mentor and training coordinator alike. Behind the scenes, Hansen also worked closely with top Canadian policy-makers. Navdeep Bains, the former minister responsible for the CSA, once tweeted (opens in new tab) that Hansen was a key voice in forming the space policy surrounding Artemis 2.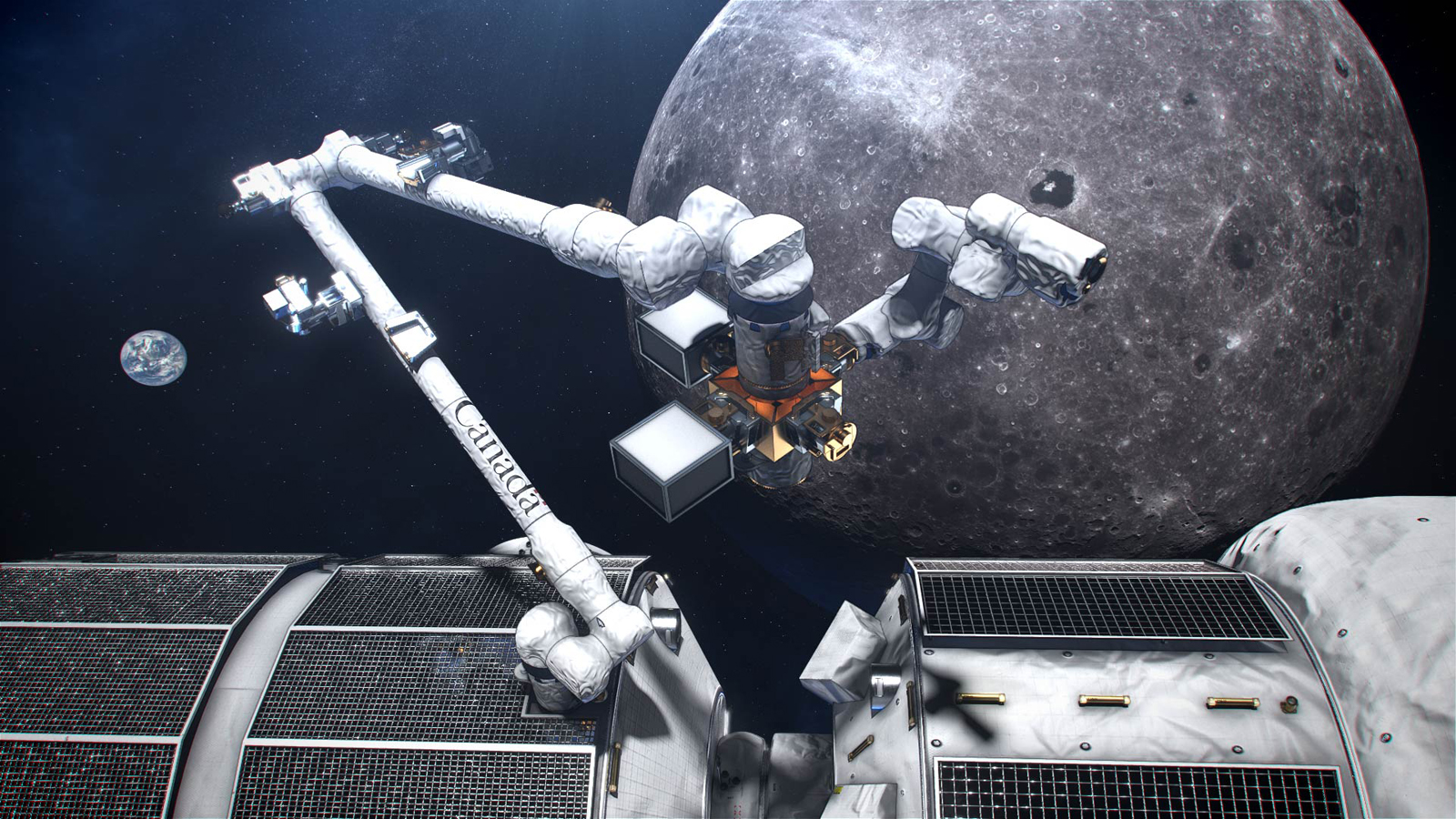 (opens in new tab)
Artemis 2's seat for CSA came courtesy of a deal announced in 2019 in which Canada joined NASA-led Artemis Accords for international exploration. Canadarm3 would be that country's contribution, to service the NASA Gateway space station near the moon, and in exchange, Canada would receive seats on Artemis 2 and a Gateway mission.
The crew for Artemis 2, however, was not named until April 3, 2023. Hansen and his three colleagues were brought on stage in front of a packed audience at Ellington Field near Houston during the livestreamed announcement. Should the mission leave in November 2024 as expected, Hansen's first spaceflight will come after 15 years of patiently waiting his turn.
Related: Artemis 2's Canadian astronaut got their moon mission seat with 'potato salad'
Jeremy Hansen is a Canadian Space Agency (CSA) astronaut assigned to Artemis 2, a round-the-moon mission. He will be the first non-American to leave low Earth orbit. He joined the CSA in 2009. Although he hasn't flown yet, his ground responsibilities included mentoring an astronaut class and working in space policy.
What does Artemis 2 mean for you, your family and Canada?
It was really meaningful to talk to my family about that, to share that with my wife and children and my parents and to see how authentically excited my kids were for me. But bigger than all of that, this isn't really about me. I feel a great sense of pride for Canada. And that really hit me.
What are your Artemis 2 duties going to be?
We know we'll have a lot to do, and we know we have to divide some of it up. We also have talked about making sure we get as many hands [as possible] flying the vehicle so that we have more astronauts with that experience and more perspectives.
As someone who has spent their career flying vehicles in high-performance situations, what are you looking forward to with Orion?
It will just be fun for me to learn a new system and put it through its paces. We want to 'buy down' risk on this mission for Artemis 3. So we're not just going to try and get out [to the moon] and back; we're actually going to stress the vehicle intentionally.
This exclusive interview was conducted on April 3, 2023 hours after Jeremy Hansen was named mission specialist on Artemis 2. It has been edited and condensed.
Additional resources
Follow along with Hansen's activities in real time at his Twitter account (opens in new tab) and Facebook page (opens in new tab). Read more about Artemis 2 at NASA's website (opens in new tab).
Bibliography
Bains, Navdeep. [@NavdeepSBains]. (2023, April 3).  "What an amazing choice. So proud of @Astro_Jeremy who was instrumental in helping develop the @csa_asc space strategy for #ArtemisII." Twitter. https://twitter.com/NavdeepSBains/status/1642915451561820162 (opens in new tab)
Canadian Space Agency. (2019, December.) Evaluation of Human Space Missions and International Space Station Utilization: Project No. 17/18-02-01. https://www.asc-csa.gc.ca/eng/publications/er-1718-0201.asp (opens in new tab).
Canadian Space Agency. (2016, June 17). 2009 Astronaut Recruitment Campaign. https://www.asc-csa.gc.ca/eng/astronauts/how-to-become-an-astronaut/2009-recruitment-campaign.asp (opens in new tab).
Canadian Space Agency. Biography of Jeremy Hansen. (2023, Feb. 2). https://www.asc-csa.gc.ca/eng/astronauts/canadian/active/bio-jeremy-hansen.asp (opens in new tab).
NASA. (2023, April 5). Our Artemis Crew. https://www.nasa.gov/specials/artemis-ii/ (opens in new tab)
Elizabeth Howell is the co-author of "Why Am I Taller (opens in new tab)?" (ECW Press, 2022; with Canadian astronaut Dave Williams), a book about space medicine. Follow her on Twitter @howellspace (opens in new tab). Follow us on Twitter @Spacedotcom (opens in new tab) or Facebook (opens in new tab).